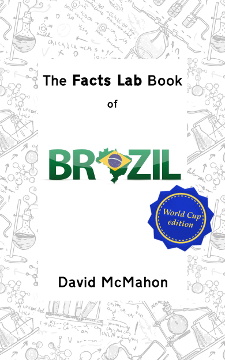 by David McMahon
World Cup Edition: published 24 December 2013
Ah, Brazil. Home of the Amazon and a rather good football team. And they grow coffee. And the World Cup is being held there soon.
Most people's knowledge of Brazil doesn't go beyond that. Which is a bit pathetic really, considering it's the world's fifth biggest country in terms of size and population.
If you'd like to know more about Brazil than what time the matches are on television next June and July, The Facts Lab Book of Brazil: 101 amazing facts about Brazil and the Brazilians is a carnival of information about the country and its people – some of it useful, some of it arcane, all of it entertaining.

Compiled by trivia boffin David McMahon from a variety of sources, The Facts Lab Book of Brazil takes you on a whirlwind tour of just some of the many aspects of this vibrant, colourful country and emerging global power. As you'd imagine, the Amazon and its rich natural resources get a mention. So too do Brazil's scientific and innovative endeavours. You might be surprised to learn, for instance, that the Wright Brothers' place in aviation history has a Brazilian challenger.
Brazil's contributions to music, dance and culture feature strongly. You'll discover the true story of the girl from Ipanema – and what Ipanema really means. And did a Brazilian martial art really form the basis of breakdancing?
And naturally the national obsession of football has its place. This special World Cup edition looks at both the tournaments hosted in Brazil – the 1950 version as well as the forthcoming extravaganza – and some of the players and achievements that have made the Seleção a perennial force to be reckoned with.
As is customary with Ergo Guides, we've erred on the generous side and given you 102 for the price of 101. The Facts Lab Book of Brazil is the book for anyone who wants to know more about Brazil, whether you're off to watch the match next summer, want to boost your pub quiz team's knowledge or are just curious.
Amazon.com

Amazon UK Europe Asia/Oceania Americas

Buy the book!
You can buy this book through any local version of the Kindle Store. For your convenience, we've provided links to all of them.
If you have the time, we'd appreciate it if you could rate or review the book on Amazon too - it's always good to have feedback. Thanks!
Not got a Kindle?
Don't worry, you don't need one. There are several Kindle reader programs, plugins and apps available at Amazon that cover most computers and smartphones.