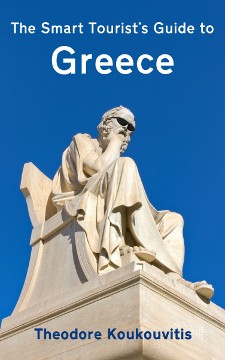 by Theodore Koukouvitis
First Edition: published 20 September 2012
When you consider that Greece is considered to be the cradle of Western civilisation and that it's also the chosen destination of millions of tourists each year, it seems a pity that there's so little connection between those two facts.
That's the reason why Theodore Koukouvitis's The Smart Tourist's Guide to Greece is unlike any guidebook to Greece that you'll ever have read before. A professional writer by trade who's spent much of his life dealing with the Greek hospitality industry as both a customer and a worker, he has a rare grasp of what the average international tourist in Greece gets to experience – and, crucially, what gets missed out.

That's why you won't find any of the usual reviews and recommendations of cheap places to stay, mediocre meals and tatty taverns in this book. Instead, Theo gets below the skin of the modern Greece and examines its innards. Stories of war, betrayal, national pride (and national prejudice) abound. So do sex, crime, prostitution, police brutality, political corruption and financial scandal!
Theo tells all these stories frankly. But he does so with respect for his subjects – even when criticising them – and with plenty of wry humour.
There's plenty of information about Greece's cultural treasures too. You may have "heard it all before". But that's just the official version for tourists. Theo shows us how to dig a little deeper and tap into the wealth of over three thousand years of Greek cultural heritage.
This book is a real eye-opener, and a fascinating read. We challenge anyone reading it to tell us truthfully that they'd be content to do a bog-standard package tour.