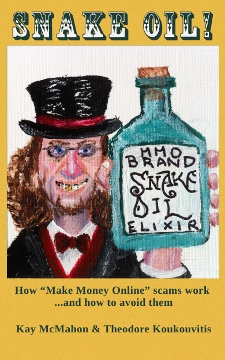 by Kay McMahon & Theodore Koukouvitis
First Edition: published 14 November 2012
Are YOU Sick Of Being A Wage Slave… While Your Fat Cat Bosses Take It Easy?
Don't YOU Deserve A Better Life?
You Can Make $$$,000s WHILE YOU SLEEP!!!
If you've ever considered trying to make a bit of extra money online, then you've probably already encountered the sort of messages above while you've been pondering how to do it.
A whole industry has sprung up offering this kind of "Make Money Online" (MMO) proposition. A quick search of the Web will turn up thousands of different websites, all promising to show you how you can make incredible amounts of money online, with very little required from you – little or no expertise, little or no effort, and just a few dollars to unlock the door to limitless wealth.
Sound too good to be true? Sadly, there are a lot of people out there who don't realise that these propositions are often exactly that. But it's not that they're stupid, or greedy – the people behind these scams are very charming and very plausible, and know all the right buttons to press to entice honest but inexperienced people into the snake pit.
In Snake Oil! Kay McMahon and Theodore Koukouvitis take a critical look at the MMO industry, the people who dominate it, and their products. Both authors call on years of experience in making a living online to examine the claims made for MMO products, the way they're presented to the inexperienced customer, and the substance of the products themselves. They explain why the products sell so successfully, why they don't deliver on the claims made for them – and why, in spite of this, their devotees keep coming back for more.
This book clearly identifies the techniques used to put together and sell these MMO 'frauducts'. For those setting out to make money online, it offers a powerful antidote to the charms of the snake oil sellers.