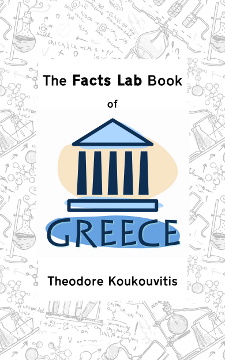 by Theodore Koukouvitis
Revised Edition: published 13 March 2014
(This book was originally published on 7 March 2013 as It's all Greek to them!)
Ever wondered why we say, "It's all Greek to me!", or why we're warned to beware of Greeks bearing gifts? This book will tell you.
The Facts Lab Book of Greece: 101 amazing facts about Greece and the Greeks is Theodore Koukouvitis's second Ergo Guides book about his ever-intriguing homeland, and in it he's come up with a cornucopia of facts, reflecting his own wide-ranging interests and the diversity of Greek culture, society and landscape.

Greece is famous as the cradle of Western civilisation, and there's plenty in the book that celebrates the immense contribution of the ancient philosophers and thinkers to the human quest for knowledge and truth. But the country hasn't rested on its laurels in the subsequent two millennia, and you'll find out a lot about modern Greece too – its state institutions, its economy, its language (and the one-way influence it's had on English), and of course its religious beliefs (and some other beliefs too). You'll also get to see something of the land – and sea! – that shaped both ancient and modern Greece, its cuisine and way of life.
And if all that sounds too serious for you, there's plenty about the lighter side of life. Sport gets a mention (naturally; how could any book about Greece omit the Olympics?). So too do the traditions and customs that play so big a part in Greek life. Even sex gets a mention!
This book is jam-packed with useful and interesting if not downright bizarre snippets of information. Actually, we lied in the title – there are 102 facts, not 101! If you'd like a witty and intriguing ramble through the variety that Greece and its people offer, then look no further than The Facts Lab Book of Greece.