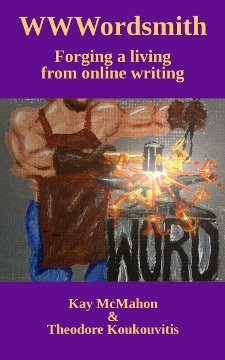 by Kay McMahon & Theodore Koukouvitis
First Edition: published 13 December 2012
Everyone's supposed to have a book in them, aren't they? That piece of folk wisdom underlies the dream that many people have of making a living online through writing. WWWordsmith: Forging a living from online writing is here to explain how, if they're good enough, they can make that dream a reality.
Authors Kay McMahon and Theodore Koukouvitis have teamed up again to write about the ins and outs of making money online from writing. Each of them brings their own particular perspective to bear on the online writing industry. In building his career as a successful freelance writer, Koukouvitis has run the full gamut of job-seeking platforms and has amassed rich experience of the methods required to compete successfully for commissions in a fiercely competitive marketplace. McMahon has been running a business based on websites – for which she's supplied much of the writing – for well over a decade.
The result is a book that covers all aspects of earning a living online through writing. First, a brief introduction looks at the practical benefits of an online writing career, and sets the scene for the discussion of the two basic ways of making a living online through writing: writing as a job (freelancing), and writing as a business (self-publishing). There follows a look at what makes people willing to pay for writing – the needs that the writer must satisfy in order to succeed.

The first half of the main body of the book examines writing as a job – the various types of writing commission to be found, where to find them, and what you'll need to equip yourself for the task. The self-management aspects of freelancing are given due prominence – after all, even a freelancer needs some business skills – as is the important matter of building up and maintaining a reputation as a reliable producer of high-quality writing. Pitfalls and blunders also get a mention, as it's very easy to be ripped off – and to fall into the trap of trying to rip clients off!
The second half takes us into the world of self-publishing. Here the focus is on the skills needed to place content online, attract visitors, and make your website generate money. Various types of website (eg blogs, forums, content sites) and their respective plus and minus points are examined, as are the ways of getting them noticed and several monetising models. A chapter on eBook publishing looks at this increasingly popular writing activity, as well as the ways of making money from it – of which royalties are only one! Finally, the authors extend an invitation to the reader to get in touch if they want any further help with their writing career or business.
This book doesn't make unrealistic promises to improve your writing skills. To do that requires personal guidance, whereas a book can only offer generalised pointers. But if you know you have what it takes to write well, yet face the frustration of not knowing how to earn from what you've written, the decades of experience contained in this book will surely help you start to make money from your writing.